EVERY DAY IS DIFFERENT
A doorway to the Past
The territory on which Serbia is located, for millennium has been a spectacle of historical events that marked the fate of these territories, as well as its contemporary history. While history reverberates all around, Serbia is as much about the here and now as the past. It's about drinking wine in a crowded bar or seeing out the end of the day over a drink on a buzzing rivers.
Information

Tour Plan

Location

Gallery

Reviews

Additional Info

Similar Tours
What's included
Departure Location
Belgrade, The Slavija Square
Return Location
Belgrade, The Slavija Square
Additional Information
Route: Smederevo – Viminacijum – Silver Lake - Lepenski Vir - Belgrade
Price includes
A guided tour of important places

Beautifully illustrated souvenir map

Entrance tickets to monuments and museums

Meals, unless expressly states

Professionally guided tour
Price does not include
Current Hotel Taxes and Service Charges

Departure Taxes or Visa handling fees

Excess baggage charge

Personal expenses

Services not specifically stated in the itinerary

Visa arrangements
Serbia is rich with numerous top archaeological sites. Among them is the oldest human settlement Lepenski Vir, 10000 years old. In addition to spectacular discoveries in this prehistoric site, there are many Roman and Byzantine cultural monuments. The Smederevo Fortress, Viminacium, Golubac Fortress, Monasteries, Trajan's Board and many other unique sites. Throughout the ages, Serbia was home to many ancient civilizations. Each and every of them has left a significant mark which lasted for millenniums, for new generations to witness.
Smederevo Fortress
Our tour starts at one of the most famous medieval fortresses in Serbia, in the small town of Smederevo. The legend says that the fortress was built at such a pace that its builders died of exhaustion. The people blamed the despotic Jerina (Irina Kantakuzin) and called her " The Damn Jerina". History in this place is still alive. The tomb of a medieval nobleman and his jewelry was dug up in 2012. Because of this, and due to the fact that the works are still in progress, this is a place that all archeologists and historians must visit.
And once you're here … who knows … you might find the legendary treasure of "The Damn Jerina"!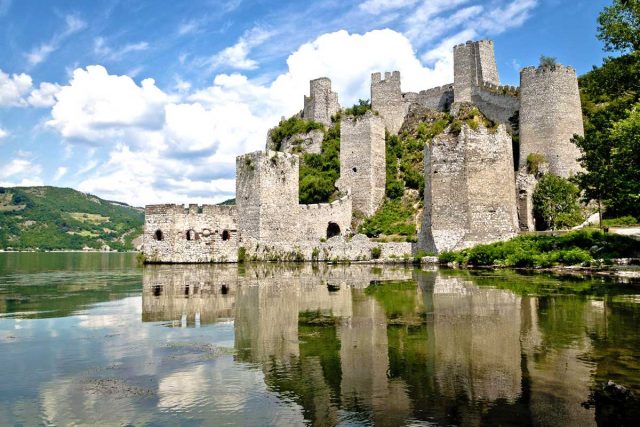 Photo: traveloutthere
On the prehistoric traces of life in this region speaks the foundations of fossil remains of animals. Fossils of dinosaurs aged about 200 million years were found here. And a mammoth skeleton about one million years old was found in Viminacium. And in one settlement of Belgrade, which lies on two rivers, the tooth of a shark!
This is the birthplace of 16 Roman emperors.  A land crisscrossed with ancient trading routes connecting East to West. Magnificent cities build on memorable landscapes, even hosted briefly the capital of Eastern Empire.
Are you ready to learn about history, cultural heritage and tradition of people that once lived here?  Also, get a closer look at the rich culture and tradition of people that live here today.
If all this sounds incredible but interesting to you, continue to read about this unusual tour…
Day 1
Belgrade – Smederevo – Viminacijum – Silver Lake
Welcome to Serbia! It is our pleasure to introduce you to a land of varieties. We will do our best to take you into diversity of our country, to feel the real Serbian spirit and to embrace our land as your new favorite. 
Departure from Belgrade in the early morning hours.
East awaits us, as we follow the mighty Danube river to the past. Our first stop will be the last Serbian Medieval capital – town of  Smederevo. It's mighty fortress still rises on the banks of Danube, as a witness of Serbian fall to the Ottoman Empire. A legend about medieval Smederevo is tragic and somewhat romantic. You will find out why the last Serbian queen was called "Cursed", and how did the Kingdom collapsed.
The Danube takes us further in the past, in the era of Ancient Rome, and the time when  Viminacium  was a crucial town of the Empire.  It was a major Roman town and military camp between 4th and 1st century BC. Viminacium, today Kostolac, during the reign of Gordian Ill (239th BC], was given the Status of colony, the highest status awarded to the kingdom. This enabled him to make ifs own money and the citizens to be given Roman citizenship. In recent years in more than 14,000 graves were discovered impressive frescoes and wealth of citizens of Viminacium. Mysterious.
Lunch and overnight in Srebrno Jezero 
Day 2
Golubac - Djerdap - Donji Milanovac - Majdanpek
Visit to the "Golubac" Fortress. This fortress is situated at the very entrance of the "Djerdap" Gorge, which is known also as the Iron Gates, on the section where the Danube River is widest. The most striking feature of Fortress is arguably its ten towers, which are connected by a series of walls.
This Roman compound is one of the best preserved in Balkan. You will hear the tales of Hades and why the entrance to the other world was right here, as we take an underground tour through the long forgotten town. We are still following the Danube, as we approach the town of Donji Milanovac. It was right here where the famous "fish-people" lived. The settlement of Lepenski Vir is considered to be one of the oldest organized settlements in Europe and world. We will visit the archaeological complex and see how people used to live in the Stone Age.
Lunch in the eco-ethno complex "Kapetan Mišin breg" While enjoying beautiful view of the Djerdap gorge complemented by culinary specialties and the sounds of wooden flutes, you can listen to a story about the history. Within the compound you will find an open air gallery called "Man, wood, water," which is a collection of sculptures made of wood and stone as well as a wine museum. 
Departure to Majdanpek. 
The famous mining town of Majdanpek is located in East Serbia, in the Timok region. Majdanpek is known for centuries for the richness of copper and precious metals. It was mining here much earlier than in other parts of Europe. There are material traces of 6,000 years old localities, which indicated the excavation of ore at the locality in Rudna Glava. The golden river Pek has always attracted curious tourist and gold diggers. The traditional way of washing gold is still cultivated in some villages. In the territory of Majdanpek, there is the largest part of the National Park "Djerdap" which is one of the biggest and most beautiful national parks in Serbia. 
We will get acquainted with the history of Majdanpek, and end up the day on a traditional dinner.
Overnight in Majdanpek. 
Day 3
Majdanpek - Belgrade
In the early morning, after breakfast, we are heading to the famous Rajko's Cave.  Rajko's Cave was discovered at the end of the 19th century by our famous geographer - Jovan Cvijić. According to what is known till today, the Cave's huts are over two kilometers long and divided into a river and dry horizon. The concrete path leads through the vast Concert and Hedgehog Hall , to the Hall of the Bath. Then there are Tavern Hall, Winter Fairy Tale and Crystal Hall.
Departure for Belgrade. 
Arrival in Belgrade. End of tour. 
More about this tour
Serbia is a land that also has it's secrets and unknown facts that might spark an further interest to research about her. So naturally as we cover all Slavic countries so we covered Serbia as well, in hope you will visit Serbia and enjoy it. What you are about to see is 20 facts about Serbia that you didn't know for sure (except if you are Serbian). So if you are one of those that didn't really had a chance to study about Serbia this fact list about this interesting country might spark an interest to learn more about it.