Belgrade Airport was one of the largest air ports in Europe until the beginning of the Second World War. During the war, from Belgrade Airport, which was called "Old Airport" after the war, the first combat aircraft flew over the skies above our land in April 1941, meeting German bombers.
The only preserved object of the original airport complex is the hangar, that is, the workshop for maintenance and repair of aircraft.
Airport "Nikola Tesla" as we can see it today, was built in 1962. and first flight took off from it the same year.
Although we are a small country, we can proudly say that: the "Nikola Tesla" Airport terminal boards remembers the fierce walk of Fidel Castro, David Rockefeller's decisive steps, and the ticking heels of Elizabeth Taylor.
Aeronautical Museum Belgrade
The museum was ceremonially opened in 1989. The idea of ​​establishing Aeronautical museum was born practically with the birth of aviation in this region. Six months after the first flight took off thanks to Ivan Saric, who constructed the first plane in our area on 1911, the pilot Edvard Rusjan flew over the Kalemegdan fortress.
The Museum owns over 200 aircraft previously operated by the Yugoslav Air Force (both royal and communist), Serbian Air Force, and others, as well as aircraft previously flown by several civil airliners and private flying clubs. It also owns the only known surviving example of the Fiat G.50. The most valuable collections are housed in geodesic glass building, with additional aircraft displayed on the surrounding grounds.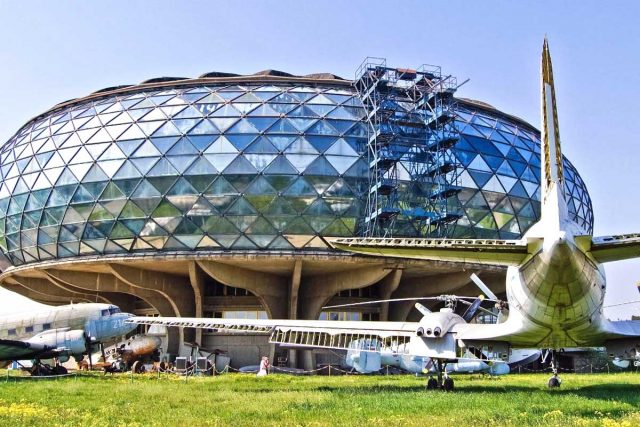 In addition to the exhibit, the Museum also has an extremely rich and valuable archive, a library with several thousand foreign and domestic titles, magazines and technical instructions, a photo library with over 100,000 photos, negatives and film material. In museum depots there are stored thousands of valuable historical objects related to our famous aviation personalities, collections of medals, uniforms, flyers, gifts of foreign delegations to the war flight commanders. Within the museum building there is a cinema-conference hall, a polyvalent exhibition room, a restaurant and a dedicated souvenir shop.
The visit of Museum provides visitors with a unique opportunity to see in one place not only the development of our aviation that took place for more than 100 years, but also to ensure that in that period we often were in very front of world's airplane industry.